Stuck inside? Looking for something else to occupy your brain?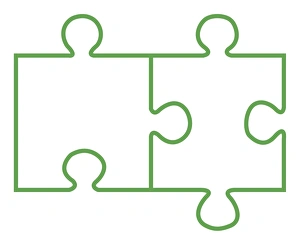 Finished cleaning out your cupboards, donating that jumper you haven't worn for a few years, and saying adios to the weeds in the yard? Or perhaps you've watched all the good shows on Netflix, or Instagram and Facebook are showing posts you've seen before? Then it might be time to dive into the world of puzzling. but watch out, it can be addictive!
London mapmaker, cartographer and engraver, John Spilsbury made the first jigsaw puzzle in 1762, creating them for educational purposes. He named them "Dissected Maps" and they were made by mounting maps on to sheets of hardwood and cut along boundaries using a hand saw to create puzzles pieces.
Puzzles are perfect if you want to change things up from staring at a screen and fire up your brain. Working on a photo puzzle can be done solo or with your loved ones. Before you know it, the whole household will become involved, which means you'll have hours of entertainment in front of you. Concentrating on completing puzzles not only trains brains but they're also calming and will help to bust away the stress of the world.
Nearly all images in our collections are available as puzzles so, if you find yourself suddenly with an urge for a puzzle or two, there's no need to worry about Media Storehouse stock running out.
The easiest part of determining the difficulty of a jigsaw puzzle is the piece count and our puzzles come in a variety of piece counts; 252, 400, 500, and 1,000. We sell jigsaw puzzles featuring the same artwork, but with different piece counts. Generally speaking, the higher the piece count, the harder the puzzle is. With 1,000 pieces in a puzzle, you have to sort through many times to find the pieces and matches you are looking fo whereas smaller counts make for less time sorting through pieces and faster puzzling.
All our puzzles are custom made by professionals. They make awesome gifts and are available in a range of sizes to suit budgets and skill levels. What's great is that they can be delivered straight to your house, family or friend's place, or workplace address.
When ordering a photo puzzle for yourself, or as a gift, we suggest choosing something that ignites your taste or interests. If you love to travel, why not use a puzzle to explore the world by browsing our most popular travel photos or travel back to your favourite holiday destination by choosing a photo that has a special meaning.
The stunning shoreline of Riomaggiore in Cinque Terre, Italy

Media ID 11146175
At Media Storehouse we have unlimited and appealing options with 100's of categories available to choose from including history, art, architecture, travel, sport, maps and stacks more.
Antique map of Britain under the Anglo Saxons

Media ID 14549471
Photo Puzzles For Kids
What's better than some much-needed family bonding? There's probably not a mum or dad who hasn't heard their kids complain, "I'm bored, there's just nothing to do here at home." With schools closed and parents working from home in the midst of the COVID-19 outbreak, puzzles will keep kids entertained for hours.
For kids new to jigsaws our advice is to start with a smaller puzzle, choosing a photo with distinct colours, but not too many. Doing puzzles requires critical thinking so whether it's a jigsaw about space, dinosaurs or a rhyme, they'll be learning as they go.
How about this 'Sing a Sopng of Sixpence' to get their gears turning?
Victorian nursery rhyme illustrated puzzle 'Sing a Song of Sixpence'
Media ID 19694685
Photo Puzzles For Adults
If you're new to puzzling and want something easier to start with, we definitely suggest choosing a photo with defined colours and not too much sky or sea. Or If you're up for a bigger challenge, why not transform an image of your favourite topic into a 1000-piece photo puzzle?
Thinking you'll just have to undo it all when you're finished? Well think again! From Art Nouveau to Surrealism there's 1000's of art images available that can be hung on walls in any space, so you get to use them for your next interior design project too.
Jigsaw Puzzle of ANNA AKHMATOVA (1889-1967). Russian poet
Media ID 6181405
Nothing compares to the amazing feeling of finishing a puzzle. You can hang on to that sense of accomplishment, keeping it in its finished state and framing it so you can enjoy it for longer.
With an incredible assortment of amazing images, you can have hours of fun browsing our collections to choose the perfect puzzle to bust away the stress of the world.
Also, remember when you've completed the puzzles, you mix them up and share them with family and friends so they can get equal enjoyment making puzzles the gift which keeps giving.
To start browsing our galleries and create your favourite jigsaw puzzle click here
Suzanne, 8th April 2020